DesignRush celebrates the best real estate website designs in honor of National Skyscraper Day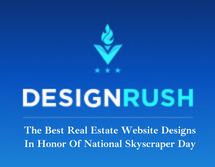 MIAMI (PRWEB)
September 02, 2022
According to Statista, residential building developments have outnumbered office space in the United States since 2000. This makes competition stiff for businesses looking to attract individual customers who are now online. 75% of visitors admit to making judgments about a company's credibility based on their web design, like Sweor shares. So, building trust is just as important as having a website that reflects those values.
In honor of National Skyscraper Day on September 3, DesignRusha B2B marketplace connecting businesses with agencies, rewards the best real estate website designs that inspire brand credibility and foster trust among visitors.
For images and more details on these projects, visit This article.
1. It's a neat cleaning by Michael Ngo
Designed by Michael Ngo, the website for This Is Neat, a bond cleaning service, features a clean and minimal design and copy. With just enough negative space and a focus on key elements like key services and customer reviews, the designer managed to keep everything neat and clean. Other standout details are the use of a branded color palette and contemporary artwork to evoke familiarity.
For more Michael Ngo projects, visit hellomichael.com.
2. Castell Management by Atelier Design
The Castell Real Estate Management website has a simple structure and navigation that conveys the company's mission and goals in a clear and professional manner. The design studio, Atelier Design, focused on the clever use of negative space, a clean typeface and custom visuals to highlight the properties. Additional key elements are the well-defined brand identity and concise structure along with subtle transitions and movements that provide an energetic yet professional feel.
For more Atelier Design projects, visit atelierdesign.be.
3. INKOM by Okinet
Okinet is the design agency behind the website of INKOM, a Polish property developer. It used sleek serif typography, clearly visible CTAs, a sticky hamburger menu, and lots of negative space to give the website a clean yet classy look. There is also the use of subtle animation and parallax effects that create a cohesive feel that gives a holistic design.
For more Okinet projects, visit okinet.pl.
4. The White Island by Bquadro
The design of the White Island website, a lavish residential complex, relies on interactive maps and horizontal scrolling of the homepage, pseudo-3D effects and motion graphics to make the pages look luxurious. Design agency, Bquadro, also focused on intuitive navigation and a scrolling feature, giving it a "magazine" vibe for a user-friendly approach.
For more Bquadro projects, visit bquadro.ru.
5. Cutting Edge Properties by Digitalwerk
Avantgarde Properties is a classic example of simple yet elegant website design. Design agency Digitalwerk took advantage of the tested tricolor combination of white, black and gold to give it a luxurious look. The website features an engaging carousel, a unique portfolio with rich images and beautifully illustrated rewards as eye-catching elements. Another great feature to enhance the user experience is sticky menu navigation.
For more Digitalwerk projects, visit digitalwerk.agency.
DesignRush identified best real estate web design companies that can help businesses create websites that inspire trust and credibility.
1. Top Notch Dezigns – topnotchdezigns.com

Expertise: branding, web design, web development and more
2. Unified Infotech – unifiedinfotech.net

Expertise: web design, UI/UX design, application development, etc.
3. The NineHertz – theninehertz.com

Expertise: web development, app development, digital marketing, etc.
4. Boldare – go.boldare.com

Expertise: UX/UI design, web development, application development, etc.
5. Prismetric Technologies – prismetric.com

Expertise: app development, software development, web development, etc.
6. SumatoSoft – sumatosoft.com

Expertise: business analysis, web development, UI/UX design and more
7. Simplistic – simplistic.com

Expertise: web design, headless/platform migrations, strategy and consulting, etc.
8. S-PRO – s-pro.io

Expertise: UI/UX design, web development, application development, etc.
9. Huemor Designs – huemor.rocks

Expertise: website redesign, conversion optimization, ongoing support services, etc.
10. Net-Craft – net-craft.com

Expertise: Web development, application development, SEO, etc.
11. Miquido – miquido.com

Expertise: Research and development, UI/UX design, digital transformation, etc.
12. UPQODE – upqode.com

Expertise: Web Design, SEO, Digital Marketing and more
13. Xicom Technologies – xicom.biz

Expertise: Web development, application development, IT consulting, etc.
14. Eyetoeye Design – eyetoeyedesign.ca

Expertise: Web Design, Graphic Design, SEO and more
15. Lean Discovery Group – leandiscoverygroup.com

Expertise: discovery and strategy, UX design, product development and more
Brands can explore the best real estate web design companies by location, size, average hourly rate, and portfolio on DesignRush.
About DesignRush:
DesignRush.com is a B2B marketplace connecting businesses and agencies through expert reviews and agency rankings, awards, knowledge resources, and personalized agency recommendations for approved projects.