DesignRush celebrates the best medical website design for World Pharmacists Day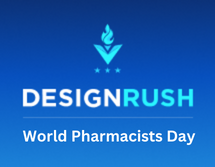 MIAMI (PRWEB)
September 23, 2022
5% of all Google search queries are related to health, the search engine reveals. In fact, online research attracts 3 times more users to hospital websites. This implies that healthcare organizations should leverage websites as a marketing tool.
On the occasion of World Pharmacists Day on September 25, DesignRusha B2B marketplace connecting companies with agencies, rewards the best medical website designs that make healthcare accessible online.
For images and more details on these projects, visit This article.
1. CariFree by Gravitate Design
Created by Gravitate Design, CariFree's website features high-quality images and informative copy to establish authority. Clickable cartoon icons are also used to indicate various health issues, while clear and easily visible CTAs throughout the website ensure that visitors take the desired action. Other standout features include easy menu navigation and complimentary branded color schemes that allow for easy navigation.
For more Gravitate Design projects, visit gravitatedesign.com.
2. Springfield Dental Solutions by O360®
The design agency behind Springfield Dental Solutions' website, O360®, has focused on developing a sleek, modern design through eye-catching photography. Distinctive CTAs, organized category menu, and accessibility tools for readability preferences also promise great user experience.
For more O360® projects, visit o360.com.
3. Village Emergency Centers by Versa Creative
Versa Creative's Village Emergency Centers website features a full-screen welcome video and interactive content to share meaningful information without overwhelming visitors. There is also a sticky menu which makes it easy to navigate to other pages. Another cool feature is the full-screen map with brand logos, which shows company locations.
For more Versa Creative projects, visit versacreative.com.
4. JJS Dentistry by Avily
Designed by Avily, JJS Dentistry's dental website relies on video content to keep visitors engaged. The creative agency used sleek and elegant CTAs in fine gold color as eye-catching elements. Additionally, there is a great balance between content and graphics and an integrated Instagram grid with brand photography.
For more Avily projects, visit avily.co.za.
5. Blister by BrainStorm Digital
Blister Pack's website design is all about brand colors, clean and effortless interface and smooth horizontal transition within pages. Visitors can spot pills of different shapes and colors, but also a good amount of white space and blue color which adds a cooling effect on the eyes. Another key feature is smooth transition – page navigation feels like users are turning the pages of a book.
For more BrainStorm Digital projects, visit brainstorm.ie.
DesignRush identified best healthcare web design companies that help organizations create healthcare professional websites.
1. Digital Silk – digitalsilk.com

Expertise: Web design and development, branding, digital marketing, etc.
2. SmartSites – smartsites.com

Expertise: SEO, PPC management, web design, etc.
3. Lounge Lizard – loungelizard.com

Expertise: branding, web design and development, UX/UI design, etc.
4. Blueberry Technologies – bilberrry.com

Expertise: digital transformation, app design, web design, etc.
5. Cheesecake Labs – cheesecakelabs.com

Expertise: UI/UX design, application development, web development, etc.
6. Design in DC – designindc.com

Expertise: web design, app design, videography, etc.
7. WebFX – webfx.com

Expertise: web design, SEO, content marketing, etc.
8.Seota Digital Marketing – seota.com

Expertise: Web design and development, SEO, paid advertising, etc.
9. Dotlogics design – dotlogics.com

Expertise: branding, conversion optimization, web design and content strategy, etc.
10. Scopic – scopicsoftware.com

Expertise: web development, application development, UI/UX design, etc.
11. Propaganda – creativepropaganda.com

Expertise: Strategy and consulting, UI/UX design, web design, etc.
12. TRIARE – triare.net

Expertise: app development, web development, UI/UX design, etc.
13. eSEOspace – eseospace.com

Expertise: web design, SEO, reputation management, etc.
14. Baunfire – baunfire.com

Expertise: web design, web development, digital strategy, etc.
15. GrayCyan – graycyan.us

Expertise: web design, digital marketing, software and integration solutions, etc.
Brands can explore the best healthcare website design companies by location, size, average hourly rate, and portfolio on DesignRush.
About DesignRush:
DesignRush.com is a B2B marketplace connecting businesses and agencies through expert reviews and agency rankings, awards, knowledge resources, and personalized agency recommendations for approved projects.