Cats Bomb Dockers – The Cattery – Unofficial Geelong Cats Website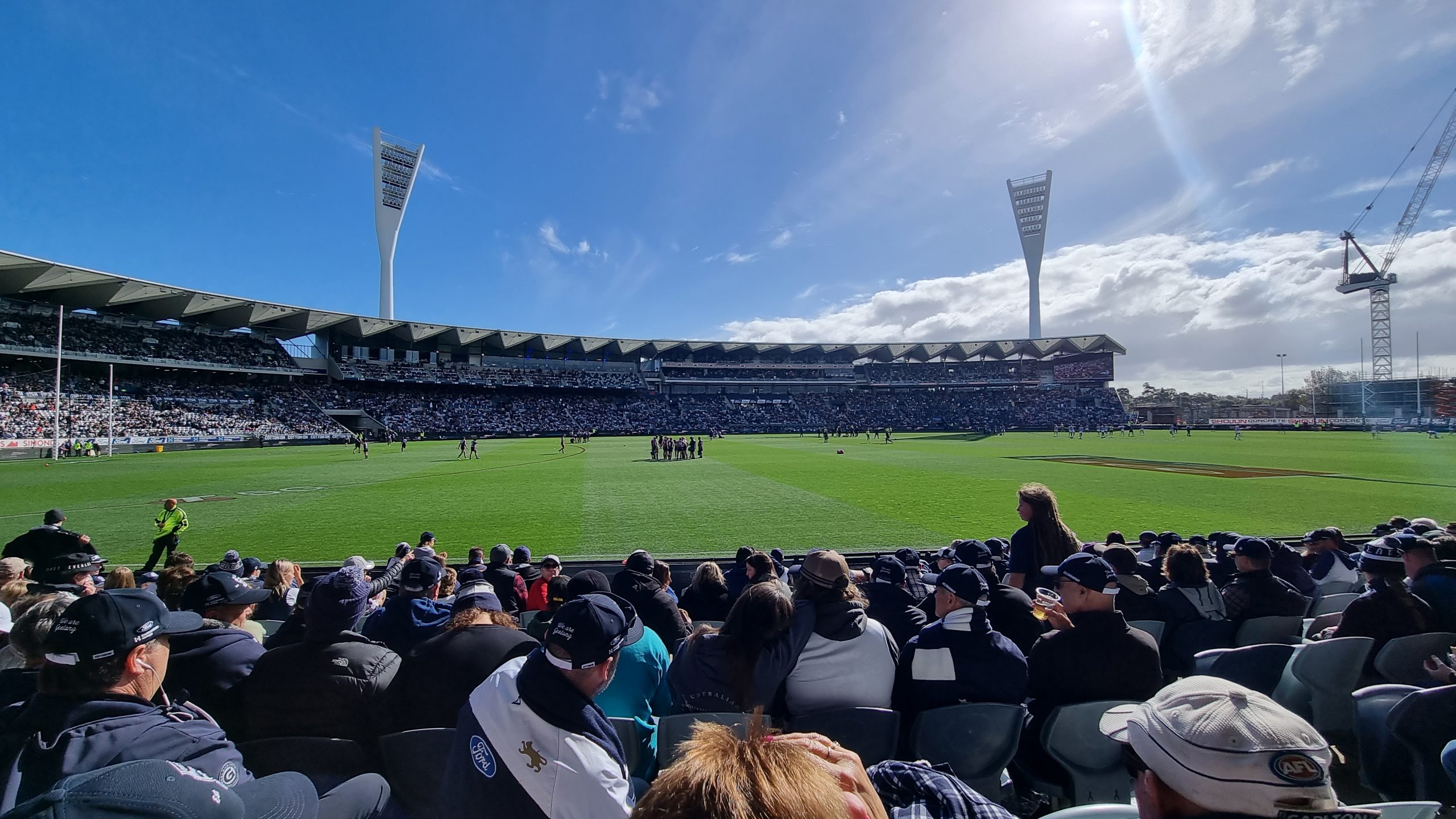 Geelong Cats v Fremantle Dockers, AFL 2022 Round 7 Ben Jensen FREMANTLE picked up a rare win at Geelong on Saturday, beating the fast-ending Cats by 3 points. The Dockers trailed in the quarter thanks to the Cats scoring five straight, but looked sharp from the first rebound, and by halftime had tied the scores despite being inaccurate – the Cats scoring just one behind for the quarter- time did not help their cause. Fremantle really asserted their dominance in the second half, racking up three unanswered goals in the third term before the Cats finally struck one of their own through Rhys Stanley.
The Cats have certainly had the upper hand in the last term but it was too little too late. It didn't take long for the Dockers to extend their 17-point lead in three quarters, but Luke Dahlhaus, who came on as a second-quarter substitute for the injured Max Holmes, quickly fought back. Stanley's nine seconds gave Cats fans hope, but then followed a tussle, with neither team scoring until Docker second Michael Frederick with less than ten minutes to go , which made a Cats victory a distant one.
Tyson Stengle's third goal gave the Cats some hope, however, but once again the Dockers crumbled, holding the Cats almost perfectly at bay until Mark Blicavs slammed his second goal of the home game away fifty with 30 seconds left. By the time the game resumed on the ball, there were 26 seconds left, and to be fair, it would have been an absolute steal if the Cats had managed to get the ball forward for a game-winning goal. The Cats had no regulars picked first among Brownlow medalist Patrick Dangerfield, Sam Menegola and Gary Rohan, but the Dockers were also depleted, with two-time Brownlow medalist Nat Fyfe, Sean Darcy and Matt Tabener missing.
By the end of the round, the Cats had slipped to seventh on the AFL ladder with four wins and three losses, and a road trip to the nation's capital next weekend to face the Greater Western Sydney Giants. . Gary Rohan sailed through a VFL game against Williamstown on Sunday unscathed, but must be a very outside chance to be brought back given he had just six touchdowns. Untested Cooper Stephens, a first-round pick in the 2019 draft, is more of a chance to make his debut. The VFL team won by twelve runs over an inaccurate Seagulls side.
AFL 2022 ROUND SEVEN
GEELONG CATS V FREMANTLE DOCKERS
SATURDAY, APRIL 30, 2022, 1:45 PM AEST
GMHBA STADIUM
GEELONG CATS: 5.0, 5.1, 6.3, 10.6 (66) DEFEATED
FREMANTLE DOCKERS: 3.3, 4.7, 8.8, 10.9 (69)
GOALS
GEELONG CATS: Stengle 3, Hawkins 2, Stanley 2, Blicavs 2, Dahlhaus
FREMANTLE DOCKERS: Lobb 2, Schultz 2, Frederick 2, O'Driscoll, Tucker, Switkowski, Acres
BETTER
gELELON CATS: Stewart, Guthrie, Stengle, Close, Blicavs
FREMANTLE DOCKERS: Acres, Brayshaw, Lobb, Serong, Clark, Mundy
INJURIES
GEELONG CATS: Max Holmes (ankle)
FREMANTLE DOCKERS: None reported
CHANGES
GEELONG CATS: None
FREMANTLE DOCKERS: None
SUBSTITUTES
GEELONG CATS: Luke Dahlhaus (replaced Max Holmes, second quarter)
FREMANTLE DOCKERS: Bailey Banfield (unused)
REPORTS
GEELONG CATS: None
FREMANTLE DOCKERS: None
CROWD: 20 136 GMHBA Stadium, Kardinia Park, Geelong
REFEREES
FIELD: Leigh Fisher, Andrew Stephens, John Howorth EMER: Peter Balles
LIMIT: Sam Stagg, Joshua Furman, Patrick Dineen, Michael Marantelli
GOAL: Luke Edwards, Adam Wojcik EMER: David Rodan
PREDICTIONS
Ben- 22 point cats
Oscar- Dock workers 20 points
Cassie- Cats 19 points
GEELONG CATS – SELECTED SIDE
IN: –
OUTSIDE: –
B: S De Koning, M Blicavs, J Bews
Coordinator: J Kolodjashnij, T Stewart, T Atkins
C: M Duncan, C Guthrie, I Smith
HF: O Dempsey, J Cameron, M O'Connor
F: B Close, T Hawkins, T Stengle
NEXT: R Stanley, M Holmes, J Selwood
INT: Z Tuohy, B Parfitt, S Higgins, G Miers
EMER: C Stephens, L Dahlhaus, Z Guthrie, E Ratugoleas
FREMANTLE DOCKERS – SELECTED SIDE
IN: J Treacy, L Meek
OUT: M Taberner (injured), S Darcy (injured), B Banfield (omitted)
B: B Cox, A Pearce, G Logue
HB: B Acres, L Ryan, J Clark
C: T Colyer, A Brayshaw, J Aish
HF: M Walters, J Treacy, S Switkowski
F: N O'Driscoll, R Lobb, L Schultz
NEXT: L Meek, W Brodie, C Serong
INT: D Tucker, D Mundy, B Walker, M Frederick
EMER: B Banfield, K Worner, N Wilson, E Hughes
Related
About the Author
Ben Jensen
THE CATTERY began as a labor of love, and remained, by creator and lead contributor Ben Jensen in mid-season 2002. His goal was to create the best "unofficial" Geelong Football Club site on the net. Consultant by day and webmaster by night, he created his first website in 1996 while studying engineering and science at Deakin University in Geelong. After a very brief stint (by design!) creating online operations manuals for water installations, the Chartered Engineer quickly decided it was time he combined his love of Cats with his skills and "trying" to do what he hoped for. would be one of the best unofficial sites in Geelong. Ben doesn't remember ever supporting the mighty Cats, let alone when he started pitching for the team wearing the blue and white hoops. Virtually all of Ben's family supports Geelong; even cousins ​​in Sydney. Sadly, he married into a mixed family of Carlton and Essendon fans, but he retains first and last rights to any offspring. One of his earliest memories is of his father explaining the rules of the game by drawing a large oval football pitch and drawing the positions in each spot, with "JACKO" in front. The rest of those early memories revolve around Gary Ablett Senior, Billy Brownless (his very first favorite official player) and Garry 'Buddha' Hocking. Having lived elsewhere in Victoria and overseas, Ben has remained proud of his Geelong roots and never misses an opportunity to show his allegiance, and particularly enjoys strolling from the top of Collins Street on a Monday morning after a victory wearing a tie Geelong and maybe even a jacket and scarf on special occasions. I live again in Geelong after fifteen years of absence. Ben would love to hear your comments, suggestions and hopefully contributions to The Cattery.